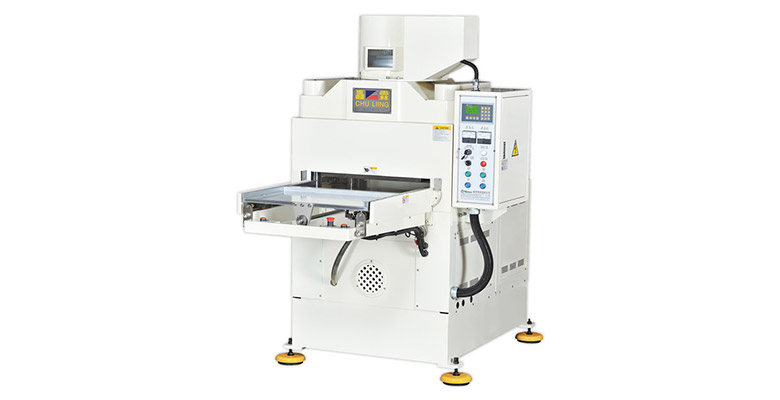 CSS-603
Precision Hydraulic 4-Column Automatic Cutting Machine
FEATURES
Processed item can be full and half cut, or even back adhesive product. The finished edge is free from rough.
Two step pressure control to achieve flexible and lower noise. The operation is agile and light, which is suitable for multi-level factory buildings.
High strength body structure, up and down punching travel uses four big high-rigidity guide poles instead of guideway.
This machine uses advanced, durable and special circuits hydraulic system with stable electronic control circuits that enable to achieve high operating performance.
The auto cutting depth adjusting mechanism can be set to 0.01mm accuracy by HMI touch screen panel with ease and efficiency.
Use special German flat steel plate that is high-precision and wear-free instead of traditional cutting board to prolong the life of cutting tool with its sharpness and durability to increase work efficiency.
Well-equipped protection device to ensure the safety of the operator and the machine.
Auto cooling system is available for option.
Special model for cleanroom.
APPLICABLE MATERIAL
Medical science: Blood glucose test strips.
Conventional Industry: Processing of Foam, PE foam board, Oil seal, Name plate, Sticker, Thin films, Self-adhesive label, Back adhesive product, etc.
Electronics: EL, Mylar, FPC, Membrane switch, Fiber glass, Printed material, Cushioning material, Insulation material and EMI shielding material.
Touch panel: Optical clear adhesive, Special adhesive, various Printed thin films, ITO film, and Sealant.
TFT-LCD: A wide range of high performance optical thin films.
SPECIFICATIONS
MODEL
CSS-603
CSS-603-1
Pressing
20-115mm
20-115mm
Horse Power
5 hp
7.5 hp
Pressure
40 TONS
70 TONS
Dimensions of Machine
L x W x H (mm)
1150*1850*1730mm
1250*2100*1730mm
Shipping Measurements
L x W x H (mm)
1230*1930*1880mm
1230*2200*1880mm
Working Area L x W (mm)
550*650mm
700*900mm
Cutting force(TONS)
40 TONS
-
Motor (HP)
3-phase AC220V/380V
-
Weight of Main Unit
Approximately 2500kg
Approximately 3000kg
G.W. (Apr.)
Approximately 2800kg
Approximately 3300kg
※We welcome custom-made orders for special request.
※We reserve the right to modify the specifications of any of the above listed machines without notice.