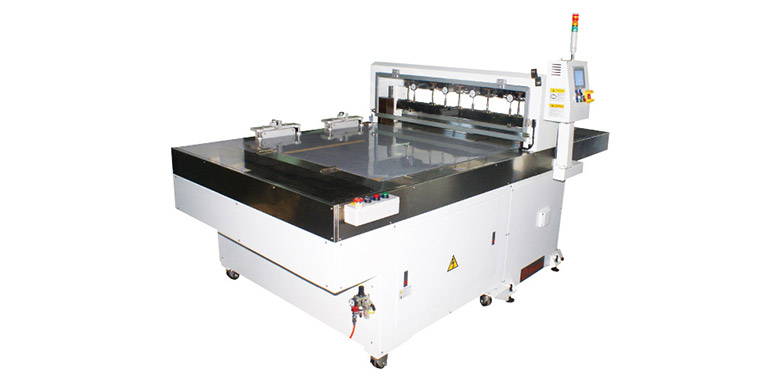 TRC-1200
High Accuracy Polarizer Cutter
FEATURES
Stable Bottomdead Center Accuracy:
The delicate-design mechanism can maintain the stable bottomdead center accuracy under high speed cutting running.
Knife Height Adjustment Mechanism:
When setting up knife mold, the instrument of the machine can make right and left adjustment respectively as well as complete the setup of knife mold clearly and rapidly.
Easy-Operate Operation Panel:
This machine adopts new touch screen featuring affinity operation interface that makes an easy operation, thus lowering cost for employee training.
Accuracy Delivery Mechanism:
oaded with new mechanism, the delivery move volume digital setup, it achieves a stable an accurate delivery function.
High Speed Cutting:
The strengthened-design mechanism can allow high speed cutting.
High Torsiodamper:
With the strong rigidity of the unit, noise can be maintained within the standard value under high speed running.
APPLICABLE MATERIAL
Applied to polarizer,diffusion sheet,conduction rubber,rubber products,wrapping washer,mica,each type of sand paper,and power cable.
SPECIFICATIONS
MODEL
TRC-1200
Maximum Cutting Width
1200mm
Maximum Cutting Length
1380mm
Maximum Cutting Thickness
10mm
Dimensions of Machine
L x W x H (mm)
L3100×W2000×H1500
Weight of Main Unit
1500kg
※We welcome custom-made orders for special request.
※We reserve the right to modify the specifications of any of the above listed machines without notice.