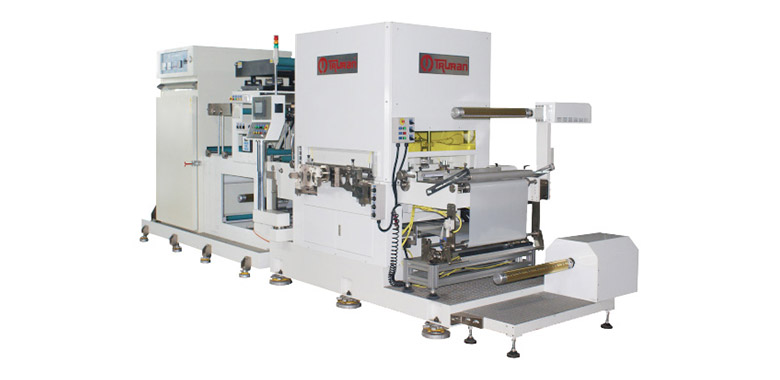 TRC-350SP
High-Accuracy Roll-to-Roll Automatic Feed Cutting Machine
FEATURES
Double-Axle Synchronous Feed Mechanism:
Enhances the production speed and Yield Rate through double-axle synchronous feeding.
Well-designed and stabilized Bottom Dead-Point Accuracy:
Uses the patented Bottom Dead-Point Mechanism exclusively developed by TRURAN to achieve +/-0.005mm of repeated positioning accuracy.
High-accuracy Depth Adjusting Mechanism:
Uses high-accuracy mechanism to achieve 0.01mm of fine-tune accuracy (0.001mm is for optional).
High-efficiency Boosting Circuit:
Reduces over 30% of power consumption as compared to conventional circuit.
Photoelectric Material Flexibility:
Uses as the dedicated moving system according to the material characteristics.
Unique Material Moving Mechanism:
High-stability Servo Control System is used to avoid contaminating and scratching the material.
Automatic Lubrication Mechanism:
The entire machine uses Automatic Lubrication Mechanism to reduce daily maintenance work.
Waste Recovery Mechanism:
The System will recover the waste of cutting automatically to save space, while enhancing the operability.
SPECIFICATIONS
MODEL
TRC-350SP
Working Area L x W (mm)
550mmX650mm
Cutting Efficiency
600mm /24times /per min
Motor (HP)
220V 60Hz 3P
Air Pressure Requirement
0.5Mpa
Weight of Main Unit
5500kg
※We welcome custom-made orders for special request.
※We reserve the right to modify the specifications of any of the above listed machines without notice.